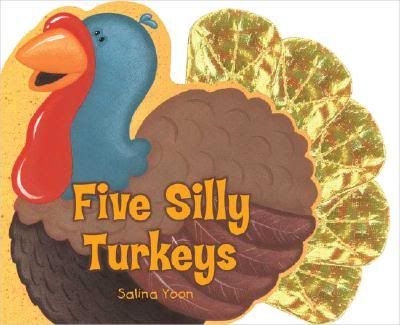 Welcome to Saturday Story Spotlight, my feature where I discuss books my husband and I are reading with our son, Daniel. These are books that he, we, or all of us particularly enjoy.
Five Silly Turkeys by Salina Yoon
Published by Price Stern Sloan, an imprint of Penguin

Five Silly Turkeys is not dissimilar to Five Little Pumpkins. Here, again, is a holiday counting story, but this time much less known, and with turkeys instead of pumpkins. Instead of counting up to five, however, the turkeys are counting down from five to one. One turkey twirls away from the group, another gets stung by a bee, until there is only a single turkey left. Luckily, he is then able to join all his friends again at the end.
One thing that makes Five Silly Turkeys a special counting book is the set of gold feathers, one attached to each page. In addition to counting how many turkeys are left on the page, kids can also count how many feathers remain on the right.
Five Silly Turkeys isn't going to blow anyone's mind, but it is a fun book to read around Thanksgiving, and fun for practicing counting down skills.
Buy this book from:
Powells | Indiebound*
Source: Personal copy
* These links are all affiliate links. If you buy your book here I'll make a very small amount of money that goes towards hosting, giveaways, etc.
Copyright protected by Digiprove © 2011