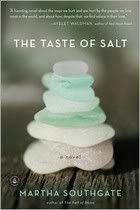 The Taste of Salt by Martha Southgate
Published by Algonquin Books, an imprint of Workman Publishing
Josie Henderson wants nothing more than to leave her family and the legacy of addiction behind her. She's married now, a successful scientist at the Woods Hole Oceanographic Institution. Still, though, she is terrified that if anyone at work new about her family she would go from being the only black female scientist to be the black girl whose daddy used to be a drunk and whose brother is in rehab. Life had been going more or less smoothly, but now her brother Tick's release from rehab forces Josie to once again face her family. When a new scientist with a background similar to Josie's own joins the staff at Woods Hole, it quickly becomes apparent that Josie's carefully constructed life is simply a veneer, and that what is underneath is not as solid as she believes.
Martha Southgate creates with The Taste of Salt a moving picture of the ramifications of growing up in a dying Midwestern town, and the long echoes of alcoholism on a family. Neither Josie nor her mother realize just how much the alcoholism of the men in their family has damaged them, and their inability to confront these realities and ask for help from a program such as Al-Anon wreaks devastation on their lives. Josie in particular is somewhat broken by the experience of growing up with an alcoholic father, and as a result has intimacy issues of her own. Interestingly, Southgate mirrors Josie's disconnect from her husband Daniel by making him the character kept at the greatest difference from the reader; he appears in The Taste of Salt as little more than a faint reflection of Josie, and it is by his virtual absence that the reader comes to grips with the true loneliness of Josie's life.
That is not to say that The Taste of Salt is completely bleak. The positive side of Josie's life essentially coming apart at the seams is that she is forced to consider, for the first time in a long time, exactly who she is and what it is that she wants from life, other than her career. Too, Josie is made to confront her family's past, going so far as to imagine for the reader what her parents' life together was like before she came along, a narrative pieced together from stories and impressions from her childhood. All of this forces Josie to grow as a character and leaves the reader with a feeling of hope for her future.
The Taste of Salt is a lovely book, and an incredibly discussable one. Recommended.
If you would like to discuss The Taste of Salt, come back here on Tuesday, November 15th for our BOOK CLUB discussion. Also, check out our BOOK CLUB giveaway for December: Maman's Homesick Pie by Donia Bijan
Buy this book from:
Powells | Indiebound*
Source: Publisher, for BOOK CLUB.
* These links are all affiliate links. If you buy your book here I'll make a very small amount of money that goes towards hosting, giveaways, etc.
Copyright protected by Digiprove © 2011