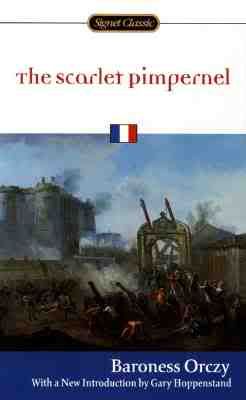 The Scarlet Pimpernel by Baroness Emmuska Orczy
Published by Signet Classics, an imprint of Penguin

Recently Nicole and I read The Scarlet Pimpernel for a classics rip episode of What's Old is New. Now, this isn't the first time that I had read – or blogged about, for that matter – The Scarlet Pimpernel. Almost three and a half years ago, I read Baroness Orczy's book alongside Lauren Willig's flower spy series (as an aside, how is that I have blog posts that are almost 3.5 years old?!?) and I thoroughly enjoyed it. Still, even though it was a relatively recent read, I was afraid that The Scarlet Pimpernel might not hold up, since I've probably read 600 books since then.
What I found was that I loved The Scarlet Pimpernel just as much as I did three years ago. As a classic action adventure novel it is an inordinate amount of fun. There are the requisite misunderstandings and thwarted love affairs, dashing heroes rescuing people from certain death, and a villain readers will love to hate.
Of course, nobody is going to be super surprised that I enjoyed The Scarlet Pimpernel since I loved it three years ago and suggested it for this classics rip episode. Nicole was a skeptic, though, and only really agreed to read it at all because I told her it was very short. If you want to know if she liked it too, though, you'll have to listen to the episode.
By the way, in this episode we also announced a contest for the first person who can recommend to us a Dickens book we actually both like. If you have suggestions, please add them to the comments on the episode.
Buy this book from:
Powells | Indiebound*
Personal copy.
* These links are all affiliate links. If you buy your book here I'll make a very small amount of money that goes towards hosting, giveaways, etc.
Copyright protected by Digiprove © 2011