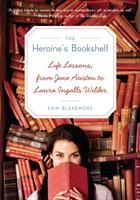 Hey, do you remember when I gushed and gushed about The Heroine's Bookshelf last year, because it is amazing? Well, if you couldn't swing it in hardcover, or if you just never got around to picking up a copy, you're in luck: it is now out in paperback! It makes a fabulous Christmas present (and paperback is in stocking stuff price range!) for the bookish women in your life from 13 to 113.
Erin joined us on What's Old is New recently to talk about the book (and everything any of us have ever thought about books and reading, evidently), check it out!
And if that wasn't enough Erin for you, she also talked to us last year about Jane Eyre, so you can listen to that AND you can join Erin's Their Eyes Were Watching God readalong, which starts Monday!
Copyright protected by Digiprove © 2011