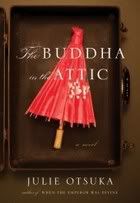 The Buddha in the Attic by Julie Otsuka
Published by Knopf, an imprint of Random House

In the early 20th century, many immigrant men living and working in the United States desired wives from their native lands. Matchmakers, armed with pictures of the men who were unable to travel home to find a bride and recommendations from family members, paired couples and sent the girls, frequently referred to as "picture brides" to America to meet their mates.
It is a group of these picture brides whose lives form the basis for Julie Otsuka's anticipated second novel. As with her debut, When the Emperor Was Divine, Otsuka follows the fortunes of persons of Japanese descent living in the United States in the first half of the 20th century. Interestingly, her trademark style is very impersonal. In When the Emperor Was Divine, most of the story is told in third person limited omniscient. The Buddha in the Attic is told in first person plural, attempting to convey the variety of responses of the picture brides to their new life, resulting in passages such as the one below, which describes the women's first nights with their husbands:
That night our new husbands took us quickly. They took us calmly. They took us gently, but firmly, and without saying a word. They assumed we were the virgins the matchmakers had promised them we were and they took us with exquisite care…. They took us greedily, hungrily, as though they had been waiting to take us for a thousand and one years. They took us even though we were still nauseous from the boat and the ground had not yet stopped rocking beneath our feet.
Coming from most authors, this would be distancing, but from Otsuka it is universalizing. We see a variety of responses from the different women in different situations that shows both their individuality and the commonalities between them. The result is a beautiful and surprisingly emotionally work culminating with World War II and the "Instructions to all Persons of Japanese Ancestry." Highly recommended.
Buy this book from:
Powells | Indiebound*
Source: Library.
* These links are all affiliate links. If you buy your book here I'll make a very small amount of money that goes towards hosting, giveaways, etc.
Copyright protected by Digiprove © 2011