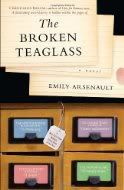 The Broken Teaglass by Emily Arsenault
Published by Bantam, an imprint of Random House

Billy Webb is somewhat aimless after graduating from college, but at least he has a decent job as an editorial assistant at Samuelson Company, helping to create the next edition of the Samuelson dictionary. Honestly, it is a pretty boring job, even if it does seem to have a certain nerdy glamor. Or, at least it is boring until Billy begins to find a series of puzzling citations, citations that claim to be from a book or publication called The Broken Teaglass, a work which does not actually exist. It becomes clear that someone at Samuelson must have placed the citations in the cit files in order to tell some sort of story, but what? And why? Billy and his equally bored coworker Mina are determined to solve the mystery.
Perhaps I'm a huge dork, but my first reaction when I saw that this is a dictionary mystery was excitement. Of course, I worried that it might end up being incredibly boring, but the concept was intriguing enough that I went for it anyway, and I'm extremely glad that I did.
The Broken Teaglass is a very smart novel, there is a mystery, but that is simply part of the plot. Billy is a fascinating character, as he falters in his post-collegiate life. He doesn't know where he wants to be, or how he wants to get there, all he knows is that Samuelson will pay his bills for now. He is searching for purpose, and for companionship, and he finds both when he discovers the mysterious citations. Suddenly, he has a reason to spend time with Mina, whom he likes both as a person, and as a potential girlfriend. More than that, though, he has something to do with his life beyond simply dragging himself to and from work.
That being said, Aresnault did not skimp on the mystery while making Billy an in-depth character. The citations come together in an extremely appealing way, creating a feeling of excitement and anticipation as Mona and Billy gather together the pieces to the puzzle. Still, the reader cares about the mystery largely because Billy and Mona do, and Arsenault gives us a stake in their lives.
A very smart and (literally) literary mystery. Highly recommended.
Buy this book from:
Powells | Indiebound*
Source: Publisher, via Netgalley.
* These links are all affiliate links. If you buy your book here I'll make a very small amount of money that goes towards hosting, giveaways, etc.
Copyright protected by Digiprove © 2011