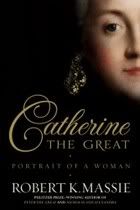 Catherine the Great: Portrait of a Woman by Robert K. Massie
Published by Random House

How does a German princess of no great account become the greatest, longest reigning empress of Russia? Catherine IIs story seems an improbable one, to put it mildly, and yet the girl born Princess Sophie of Anhalt-Zerbst ended up ruling Russia for 34 years and earning the appellation Catherine the Great.
Catherine was an incredibly complex woman, and the story of her life could have easily devolved into either a morass inaccessible by all who had not studied her life and Russian history or an overly simplified treatment leaving only a shadow of the powerful ruler. In Robert K. Massie's capable hands, however, both pitfalls are deftly avoided.
Over 600 pages of Catherine the Great, Massie presents a portrait of Catherine that is both nuanced and easy to follow. She is a vivid character from the beginning, even before her travels to Russia and marriage to Peter. What is particularly impressive, though, is that Catherine is not the only fully realized character; both Peter and his aunt, the Empress Elizabeth, fairly leap off the page. Other characters, particularly many of Catherine's lovers, were also impressively drawn. Massie's style is to get into the heads and motivations of the people whose lives he is chronicling, which leads to compelling and realistic historical personages, regardless of how sympathetic they were as human beings.
It is precisely Massie's ability to connect his readers to the people he is writing about that makes Catherine the Great such an immensely readable biography. It is not an exaggeration to say that it reads much like some of the best historical fiction, if perhaps a bit more dense by virtue of all of the rich historical detail layered in Massie's every sentence.
In addition to bringing historical figures to life and writing a biography that can hardly be put down, Massie has written an incredibly complex and complete history of Catherine's life. One particularly effective technique for making all of this comprehensible is most evident in Massie's discussions of the later years of Catherine's reign. Instead of relating events in a strictly chronological manner, which would have involved overlapping many complicated series of events, Catherine the Great has a structure in which chronology informs thematic organization. This could have been equally problematic to straight chronology, but Massie excels at weaving in mentions of events from earlier chapters so that readers can form for themselves a comprehensive timeline of Catherine's life, and what events – both personal and political – might be influencing her at any given time.
All in all this is a superb biography. Not only will it earn a place in my permanent collection, but it will also ensure that I will read more of Massie's work in the years to come. Very highly recommended.
Buy this book from:
Powells | Indiebound*
Source: Publisher.
* These links are all affiliate links. If you buy your book here I'll make a very small amount of money that goes towards hosting, giveaways, etc.
Copyright protected by Digiprove © 2011