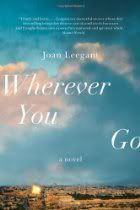 Wherever You Go by Joan Leegant
Published by W.W. Norton & Co
Israel provides the backdrop for Joan Leegant's Wherever You Go. Her three main character – Yona, Mark Greenglass, and Aaron – find themselves there for reasons as varied as reconciliation attempts, the fleeting saving power of religion, and an attempt to finally excel at something in life. Although they have very different relationships with both Israel and Judaism, they find themselves in situations which bring them closer and closer to one another in an event that will drastically change all of their lives.
Leegant's command of her prose is masterful. She creates a vivid picture of her characters and the landscape that surrounds them. Particularly impressive is the way she uses her prose style to build anticipation leading up to the climax. Each of the three main characters alternates chapters; the first three chapters, which introduce the protagonists, span some 60 pages. By contrast, the last three chapters of the first part, at the high point of the action, cover only 10 pages, the majority of that being the final chapter. The downwards creep in chapter length is subtle, but incredibly effective, all but forcing the reader to turn the pages faster. At the same time, though, Leegant doesn't resort to cheap, manipulative tactics such as manufactured cliff hangers at the end of chapters. The tension she creates is authentic, based on her skill both in the craft of writing and in creating realistic characters in whom the reader can invest a great deal.
Being Jewish is by no means a prerequisite for enjoying and becoming invested in Wherever You Go. Leegant's characters may be Jewish, but her themes of estrangement, reconciliation, and crisis of identity are universal. Highly recommended.
Buy this book from:
Powells | Indiebound*
Source: Author.
* These links are all affiliate links. If you buy your book here I'll make a very small amount of money that goes towards hosting, giveaways, etc.
Copyright protected by Digiprove © 2011