The School of Night by Louis Bayard
Published by Henry Holt & Co, an imprint of Macmillan

On a recent episode of What's Old is New, Nicole and I had the pleasure of speaking to Louis Bayard about his latest book, The School of Night. The School of Night is a dual time period piece, the modern piece dealing with rare manuscript collectors and the historical piece dealing with a secret society of Elizabethan scholars who took their name from a line in one of Shakespeare's plays. Shakespeare himself plays an integral role in The School of Night.
Louis had a lot of fascinating things to say about the influence that classic authors continue to have today, but that isn't terribly surprising, considering the homages he has included to so many classic authors in his published work.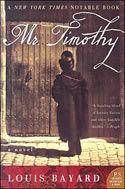 In The Pale Blue Eye, Edgar Allen Poe helps Bayard's main character solve the mysterious death of one of Poe's associates. Unlike the other books which focus on the real men themselves, Mr. Timothy reimagines as an adult one of the best known characters in Western literature: Charles Dickens's Timothy Cratchit.
Bayard's thoughts on the continuing importance of the classics, especially their importance for modern authors, is truly inspiring and I encourage you all to listen to this episode. Just a warning, though, it may cause you to add to your TBR pile.
Buy The School of Night from:
Powells | Indiebound*
Source: Publisher, for an episode of What's Old is New.
* These links are all affiliate links. If you buy your book here I'll make a very small amount of money that goes towards hosting, giveaways, etc.
Copyright protected by Digiprove © 2011