Hello friends! Today's post is going to be intentionally vague, because instead of writing it on Sunday like usual (okay, Saturday, I'm a compulsive post scheduler) I'm writing it on Wednesday. Why, might you ask, am I doing this? Why, because I'm currently in Portland, OR and as much as I love you all I get to "talk" to you all the time and if I've ever been to Portland I was in about 5th grade, and I'm visiting a college roommate I haven't seen in over two years and her adorable new baby. So…yeah. Writing this on Wednesday and wishing you the best, and probably playing with a cute baby or visiting Powells or something as you read this. Plus, all of you who are bloggers have a reading hangover from yesterday's Readathon, so you are likely not reading this in the first place.
Here's what I read this week (or, what I anticipated on Wednesday I would have finished by this point… is this getting confusing yet?):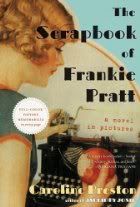 What's with all of the yellows up there? Anyway, if I did happen to finish anything else, I guess I'll just throw it on next Sunday's post. At least I know for sure what I reviewed this week, because as I'm writing this I've already scheduled everything (lots of red and black/grey this week, funny!):
Hope you're all having a wonderful Sunday!
Copyright protected by Digiprove © 2011