It is that time again! We are gearing up for this month's discussion of The Marriage Artist by Andrew Winer (Tuesday, October 25th on Nicole's blog), but it is also time to give away next month's BOOK CLUB selection. In November we will be reading an offering from Algonquin Books, The Taste of Salt by Martha Southgate.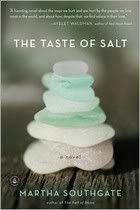 We will be discussing The Taste of Salt right here on Tuesday, November 15. Please note this date is a week earlier than normal to accommodate people's Thanksgiving travel.
From the publisher:
Josie Henderson loves the water and is fulfilled by her position as the only senior-level black scientist at the Woods Hole Oceanographic Institute. In building this impressive life for herself, she has tried to shed the one thing she cannot: her family back in landlocked Cleveland. Her adored brother, Tick, was her childhood ally as they watched their drinking father push away all the love that his wife and children were trying to give him. Now Tick himself has been coming apart and demands to be heard.
Weaving four voices into a beautiful tapestry, Southgate charts the lives of the Hendersons from the parents first charmed meeting to Josie 's realization that the ways of the human heart are more complex than anything seen under a microscope.
If you would like to be considered as a participant for November, please fill out the form below by noon, Eastern on Thursday, October 13th. Your mailing address will be discarded if you aren't selected to participate and used to mail you the book if you are. I do not share or retain any personal information. Only those selected will be contacted by email.
Copyright protected by Digiprove © 2011