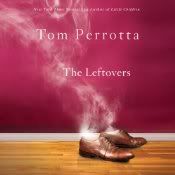 The Leftovers by Tom Perrotta, narrated by Dennis Boutsikaris
Published in audio by Macmillan Audio, published in print by St. Martin's Press, both imprints of Macmillan
Synopsis:
When the Sudden Departure happens, there is seemingly no rhyme or reason. Some families lose one member, others are nearly wiped out, only the mother left, with her husband and children gone while she is in the kitchen. This is not the Biblical Rapture. Many of the pious, the true believers, remain, while adulterers, gamblers, and generally terrible people are among the missing. How, now, can a town – and the whole world – recover from such a loss?
Thoughts on the story:
Perrotta has put together a really interesting novel of grief, loss, and rebuilding. People have so many different methods of coping, from obsessively biking, to all but dropping out of high school, to becoming the mayor in an attempt to 'fix' the town, to joining cults that promote chain-smoking or have charismatic leaders that take under-age girls as spiritual wives. It could have easily been a big mess trying to tell all of these stories, but Perrotta did a great job of tying them together within a single family, and the people with which they were connected.
Thoughts on the audio production:
Unfortunately, I found most of the characters rather difficult to relate to. They were not unlikeable per se, but there was no point of connection. This being said, I think it had more to do with the narrator than the story. Boutsikaris did not show much skill in giving voice to the female characters who comprised at least half of the story. Even when speaking for the male characters, he seemed more appropriate for a crime novel than the emotionally difficult situation Perrotta created. He is a competent narrator, but he didn't seem to complement The Leftovers as well as one might hope.
Overall
A fascinating plot, but part of me wishes I'd tackled it in print, instead of audio.
Buy this book from:
Powells: Audio/Print*
Indiebound: Audio/Print*
I'm launching a brand-new meme every Friday! I encourage you to review any audiobooks you review on Fridays and include the link here. If you have reviewed an audiobook earlier in the week, please feel free to link that review as well. Thanks to Pam for creating the button.
Source: .
* These links are all affiliate links. If you buy your book here I'll make a very small amount of money that goes towards hosting, giveaways, etc.
Copyright protected by Digiprove © 2011