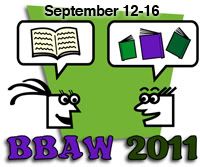 More BBAW goodness today, folks! The daily topic today asks how blogging has changed your reading habits, which I think is a really interesting question.
The most obvious answer to this question, is that I just simply read a lot more than I used to. Part of this is that I started my blog shortly after I finished teaching, which I did straight out of college. Finally, a life where I didn't spend all day at work or school and then have homework/lesson planning on top of it! This newly freed up time gave me the opportunity to read more than I had been. These days, I average at about 230 books per year.
Now, if it was just me and my husband, I'd probably have no trouble reading 230 books per year between lunch breaks and evenings at home, but I have a sweet little toddler these days on top of work, so I have found audiobooks to be invaluable in helping me to read many of the titles I would otherwise have to let pass me by.
Reading more books and discovering audiobooks are extremely positive changes to my reading habits, but some of the changes have been less positive. I find that I am much less likely to pick up 'chunksters' or nonfiction than I used to be, because I know they will eat up so much more of my precious reading time, and it will mean that many fewer books I can get to. I miss some of those epic books and that absorbing nonfiction, so over this past year I've made an effort to get to more of both. I've been doing fairly well of late, we'll see how it goes.
Whether or not you are a blogger, how have your reading habits changed over the last five years?