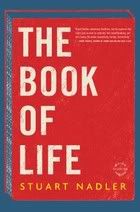 The Book f Life by Stuart Nadler
Published by Reagan Arthur Books, an imprint of Hachette

The Book of Life is the debut story collection of Iowa Writer's Workshop graduate Stuart Nadler. His seven stories are on the themes of faith and family, of coming of age and growing old. Each takes places in the Northeast, generally New York or Boston, and each is captivating.
Like any short story collection, there are high and low points, but in the case of The Book of Life, the high points are so very high, and the low points leave nothing much to criticize. Certainly I'd have liked more from Visiting, more resolution, a longer story in general, but it was only among my least favorite because I was so intrigued by the premise and simply wanted to stay in that world a little longer.
Nadler shows great skill in universalizing the lives of his characters. I do not have alcoholic parents, nor have I ever shared the house with an alcoholic, but still, this line from The Moon Landing, which was one of my favorite stories, just ran so true as I was immersed in the life of the man who spoke it:
If I'm being honest, I'm not sure I remember the way my mother did those things, or anythings, except, of course, how she drank. -p. 72
If you are a fan of short stories, do yourself a favor and pick up The Book of Life. If you are not a fan of short stories, keep Stuart Nadler on your radar, in the event that he attempts longer fiction in the future.
Buy this book from:
Powells | Indiebound*
Source: Publisher.
* These links are all affiliate links. If you buy your book here I'll make a very small amount of money that goes towards hosting, giveaways, etc.
Copyright protected by Digiprove © 2011