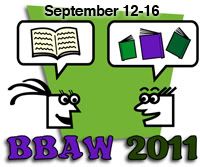 This is Book Blogger Appreciation Week, and as part of the celebration, we have been asked today to highlight some unique members of the community. I hope to introduce some of my loyal readers to some new blogs and websites.
If you like eclectic blogs, try My Books. My Life.: Michelle and I share a taste in books, although she tends to read more YA than I do. Actually, I rely largely on her to figure out which YA I should actually read. Her blog is all over the place (in a really good way), and always fun.
If you like historical fiction, try Medieval Bookworm: Meghan actually has a fairly eclectic site, but her specialty is history and historical fiction. Neither of us seems to read as much historical fiction as we used to, but we tend to have very similar taste in books – historical fiction or not! She also reads more scifi and romance than I do, if those genres interest you.
If you like meta-blogging stuff, try That's What She Read: I don't really like being meta here and talking about book blogging (which is why I will only be participating in a couple the daily topics this week, as much as I adore BBAW), but if you're interested in reading about it – as I frequently am – you can't do better than Michelle's series Inside Michelle's Brain, nominated this week as Best Feature.
If you like audiobooks, try Audiobook Jukebox: Audiobook Jukebox is not a blog itself, but it aggregates blogger book reviews and makes it easy for listeners to find blogger opinions on a variety of audiobooks.
If you like all my various projects, try Linus's Blanket: Nicole is my partner in crime, and has a bad habit of thinking up irresistible new things for me to take on. We also have similar taste in books, so if what I'm reading interests you, you'll probably like what she reads as well.
Copyright protected by Digiprove © 2011