For some reason I don't entirely understand, August was a really productive audiobook month for me but not a terribly productive print/ebook month. I listened to six audiobook titles for a total of 60 hours, but I only finished 12 books and a little over 3,500 pages. A small part of the issue is the fact that I'm participating in the Gone With the Wind readathon and reading Margaret Mitchell's Gone With the Wind concurrently, so all of those pages have yet to be counted since I haven't actually finished either book yet. I have high hopes to read a ton in September.
What I Reviewed:
Audiobooks
The Psychopath Test by Jon Ronson, narrated by Jon Ronson
Harry Potter and the Sorcerer's Stone by JK Rowling, narrated by Jim Dale
The Borrower by Rebecca Makkai, narrated by Emily Bauer
The Lantern by Deborah Lawrenson, narrated by Kristine Ryan and Gerianne Raphael

Fiction
This Burns My Heart by Samuel Park
Soulless by Gail Carriger
Domestic Violets by Matthew Normal
Girls in White Dresses by Jennifer Close
One Day by David Nicholls
Agoraphobics in Love by Lisa Tucker (short story)
Madame Bovary's Daughter by Linda Urbach
By Nightfall by Michael Cunningham
Embassytown by China Mieville

Young Adult/Middle Grades Fiction
13 Little Blue Envelopes by Maureen Johnson

Historical Fiction
The Tea Rose by Jennifer Donnelly
Becoming Marie Antoinette by Juliet Grey
Rules of Civility by Amor Towles
My Name is Mary Sutter by Robin Oliviera

Nonfiction
Sex on Six Legs by Marlene Zuk

Saturday Story Spotlight
Let's Read Together with Elmo and Friends
Who Has These Feet?
Other Posts:
Interview with David Nicholls, author of One Day
Tuscan Market & Wine Bar Book Club with Gregg Hurwitz
Cool Down with Agatha Christie – Ordeal by Innocence
Pick of the Month: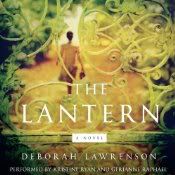 The Lantern is beautifully written, but also chosen largely for the amazing audio production, which added so much to Lawrenson's lovely book and is the only was I could figure out to decide between The Lantern, This Burns My Heart, Girls in White Dresses, and Domestic Violets.

Other Books Read, Watch for Reviews:
Audiobook
Plugged by Eoin Colfer, narrated by John Keating
How to Escape from a Leper Colony by Tiphanie Yanique, various narrators

Fiction
Making Waves by Tawna Fenske
Catcher in the Rye by JD Salinger
Q: A (Timeless) Love Story by Evan Mandery

Note: Some of these books were provided to me for review.
Copyright protected by Digiprove © 2011