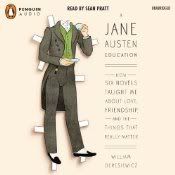 A Jane Austen Education by William Deresiewicz, narrated by Sean Pratt
Published in audio by Penguin Audio, published in print by Penguin Press
Deresiewicz was recently interviewed on the podcast I cohost, What's Old is New
Synopsis:
When Bill Deresiewicz was in graduate school, he knew exactly the authors he wanted to study, including among them some of the manlier men of literature in the 20th century. Jane Austen was nowhere on his list of authors that intrigued him. In fact, when he was finally assigned one of her works, Emma, for class he was annoyed just thinking of the girly drivel he was going to have to read. And then something happened.
After complaining about the minutia-laden novel for nearly half the book, Deresiewicz had a revelation when Emma behaved cattily towards her friends and neighbors:
By creating a heroine who felt exactly as I did, and who behaved precisely as I would have in her situation, she was showing me my own ugly face…. Austen, I realized, had not been writing about everyday things because she couldn't think of anything else to talk about. She had been writing about them because she wanted to show how important they really are. All that trivia hadn't been marking time until she got to the point. It was the point. Austen wasn't silly and superficial; she was much, much smarter – and much wiser – than I could have imagined. -p. 12 (Emma)
This realization changed Deresiewicz's life in more ways than one. First, it transformed his interactions with friends and family:
There was one more thing about my life that had to change, now that I'd read Emma: my relationships with the people around me. Once I started to see myself for the first time, I started seeing them for the first time, too. I began to notice and care about what they might be experiencing, and they began to develop the depth and richness of literary characters. -p. 36-37 (Emma)
Perhaps more importantly, though, this experience with the transformative power of Jane Austen's work led Deresiewicz into a life-long love affair with Austen that would teach him what it really meant to be a human being.
Thoughts on the story:
Part memoir, part literary criticism, and part Austen biography, A Jane Austen Education is an absolutely wonderful little book. Particularly impressive was the balance Deresiewicz struck while explaining the revelations Jane Austen brought him. It is not uncommon in this sort of memoir for either the events/books or the lessons to feel shoehorned in. This was simply not the case in A Jane Austen Education. Every lesson seemed to be authentically in tune with what was happening in Deresiewicz's life at the time.
In addition to outlining the lessons learned, A Jane Austen Education also serves to educate the reader about Austen and her work. A number of biographical details are included in order to ground Austen's oeuvre in her reality. Also offered was a scholar's understanding of Austen's work, including a comparison of Austen and her great detractor Charlotte Bronte that I myself found revelatory in understanding why I enjoy Jane Austen and couldn't really stand Jane Eyre:
In Pride and Prejudice, reason triumphs over feeling and will. In Jane Eyre, Charlotte Bronte's own typically Romantic coming-of-age story, emotion and ego overcome all obstacles. Those of us who chose Pride and Prejudice couldn't imagine how you could stand to read anything as immature and overwrought as Jane Eyre. Those who chose Jane Eyre couldn't believe that you would subject your students to something as stuffy and insipid as Pride and Prejudice. -p. 70 (P&P)
Thoughts on the audio production:
Sean Pratt did a fabulous job narrating what at times was a really very personal memoir. Like all of the best memoir narrators, he became Deresiewicz for the duration of the audiobook, to the point where I was momentarily taken aback when I spoke to Deresiewicz for What's Old is New and he sounded different than the voice who had relayed his story to me
For a more completely review of this as an audiobook, please see my review for Audiofile Magazine.
Overall:
Highly recommended in either print or audio for fans of Jane Austen, or anyone who is interested in the power of literature to shape lives.
Buy this book from:
Powells: Print*
Indiebound: Print*
Audible.com
Source: Audiofile Magazine.
* These links are all affiliate links. If you buy your book here I'll make a very small amount of money that goes towards hosting, giveaways, etc.
Copyright protected by Digiprove © 2011