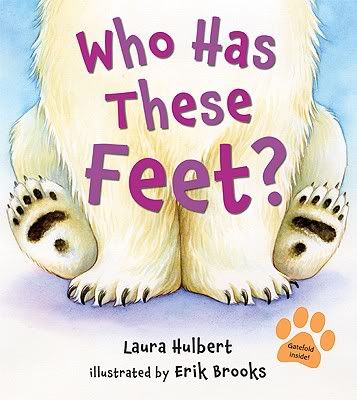 Welcome to Saturday Story Spotlight, my feature where I discuss books my husband and I are reading with our son, Daniel. These are books that he, we, or all of us particularly enjoy.
Who Has These Feet? by Laura Hulbert, illustrated by Erik Brooks
Published by Henry Holt & Co, an imprint of Macmillan

Who Has These Feet? That is the question of the hour in the book by the same name. Hulbert doesn't beat around any bushes, asking readers "Who has these feet?" on the very first page, as we are confronted with Brooks's illustration of great, hairy, white feet. Turns out, it is a polar bear who has these feet, and it needs all that fur on the bottom so it won't slip on the ice.
It is entirely possible that Who Has These Feet is the new favorite in our household. "Feet book!" is a constant request, and every time I read the eponymous question, Daniel responds with a little questioning shrug, "Which animal?" Daniel likes the predictive text and the interaction he has inserted into it, and I like the ability of Who Has These Feet to grow with the child reading it. Daniel is not yet ready for the explanations of why the different animals have different kinds of feet, for now it is enough to recognize and match them. However, an older child could easily be fascinated by the requirements that environment and behavior put on an animal's feet. For these children, there is enough detail first to satisfy and later to spark an interest and further exploration. For those too young to be interested in this, though, the 'why' sections are brief enough to maintain the quick flow of the book.
Not only is Hulbert's text very well balanced, but Brooks's illustrations are absolutely charming, with great details on the cloe-ups of the animal feet.
A fun and informative book to read for toddlers on up. Highly recommended.
Buy this book from:
Powells | Indiebound*
Source: Publisher
* These links are all affiliate links. If you buy your book here I'll make a very small amount of money that goes towards hosting, giveaways, etc.
Copyright protected by Digiprove © 2011