On August 10th, I found myself in the Tuscan Market & Wine Bar in downtown Arlington Heights, IL at 6pm, amidst a few groups of women holding books, primarily They're Watching by Gregg Hurwitz and The Help by Katherine Stockett.
Over the next 30 minutes, the Tuscan Market – by day a delicatessen, wine bar, and retail wine bar – transformed into the largest book club I have ever attended. A group of approximately 60 men and women of varying ages gathered, entering in groups of two, four, five, talking both to the people they arrived with and to the other neighbors and book club friends lingering over their complimentary appetizers and glass of wine.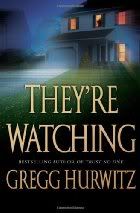 At 6:30, author Gregg Hurwitz made his appearance, grabbing a beer, chatting with a few people, and signing some books. Then, at 7:00, he began to speak; up until this point, the Tuscan Market & Wine Shop Book Club seemed like a pretty typical book event, other than the sheer size. Hurwitz got up in front of the packed house (these events sell out almost immediately after tickets go on sale) and gave a relatively short and informal talk. Because all of the attendees had already read Gregg's book most recently released in paperback – They're Watching – they had more questions about the book and Gregg's process and were a more involved audience than one typically sees, keeping Hurwitz speaking for over an hour. Of course it helped that Hurwitz was such a fun, engaging speaker, particularly when speaking about the link between his advanced degree in Shakespeare and the thrillers he writes. Plus, his books are quite good; I read his most newest one, You're Next and was on the edge of my seat.
Many authors are Skyping into book club discussions these days, but the Tuscan Market & Wine Book Club takes this concept to the next level, and does so very successfully. Debbie, the store manager, is a former manager of a Barnes & Nobles, and wanted to integrate bookish events when she came to the Tuscan Market. These days, they are adding a second event series called A Drink With. Unlike the Book Club, which costs $25 – a cost which does not include the price of the book – and guarantees a beer or a glass of wine plus appetizers, the A Drink With series has no associated cost. The next A Drink With event is actually the national launch party for Jamie Freveletti's new book.
The next Book Club, with Tracy Kiely in September, is already sold out, but if you are interested in future Book Club or A Drink With events – or the private screening and book discussion of The Help on August 31st, complete with adult beverages – contact the store at 847-392-9700, or email them at tuscanmarket@sbcglobal.net.
Copyright protected by Digiprove © 2011