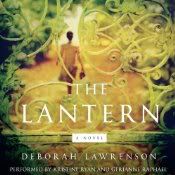 The Lantern by Deborah Lawrenson, narrated by Kristine Ryan and Gerianne Raphael
Published in audio by Harper Audio, published in print by Harper, both imprints of HarperCollins

Synopsis:
A whirlwind romance takes sensible Eve from her life in London doing French translations of boring, mundane things such as contracts to a lovely if somewhat decrepit old house in the South of France with a loving but secretive man named Dom. As summer fades, so too does the perfect live Eve imagined that the two of them were living together. She begins to question what happened in Dom's first marriage that has made him the way he is today, and to feel a chill in the house around her that leads her to wonder if their lovely Genevriers is haunted.
As Eve's story unfolds, so too does a story of her house's recent past, centered around Benedicte, a young girl who once lived in Genevriers with her troubled family.
Thoughts on the story:
Initially the story of The Lantern unfolds slowly, it is well past the halfway mark before the reader has any idea what is meant by the title or how the stories of the two women will intersect. Luckily, the slower plot has Lawrenson's lovely writing to fall back on. Aside from seducing the reader with beautiful language, Lawrenson is taking the first half of the book to fully develop Eve and Benedicte's characters, as well as the secondary characters around them, giving the reader a stake in their lives when the tension begins to build in the second half the novel. And build it does. By the time I reached the halfway mark, I hesitated to leave the story, so drawn in was I; Lawrenson does a wonderful job building both investment and interest. And although I won't spoil the ending, I will say that I found the wrap-up and explanations particularly satisfying.
Thoughts on the audio production:
As tends to be the case with books produced by Harper Audio, the audio production – and particularly the narration – was wonderfully done in The Lantern. Both Ryan and Raphael are talented narrators, but I was particularly impressed by Ryan. The character she was portraying, Eve, was a French-educated American women who at the beginning of the novel had been living in London for years, but who moved early in the book to the south of France. Certainly a narrator could have decided to work with only one or two of these linguistic heritages, but Ryan had me wondering if she had the exact same background as her character. At the base of her speech was a standard American accent, but there was a definite British inflection, with a French accent that rose and fell, depending on what exactly she was saying. It was absolutely perfectly done, more than just believable, she completely lived into her character.
Overall:
Although there is somewhat of a slow start, sticking with The Lantern is a decision that pays off completely. I am confident that Lawrenson's lovely book would stand up quite well in print, but Ryan and Raphael's masterful narration adds an extra degree of wonder that is well-worth experiencing.
Buy this book from:
Powells: Print*
Indiebound: Print*
Audible.com:

I'm launching a brand-new meme every Friday! I encourage you to review any audiobooks you review on Fridays and include the link here. If you have reviewed an audiobook earlier in the week, please feel free to link that review as well. Thanks to Pam for creating the button.
Source: .
* These links are all affiliate links. If you buy your book here I'll make a very small amount of money that goes towards hosting, giveaways, etc.
Copyright protected by Digiprove © 2011