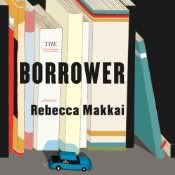 The Borrower by Rebecca Makkai, narrated by Emily Bauer
Published in audio by Highbridge Audio; published in print by Viking, an imprint of Penguin

Synopsis:
Liberal librarian Lucy Hull is not exactly what one would call happy in her life in Hannibal, Missouri. The one bright spot in her life is 10-year-old Ian Drake, the most spirited, voracious reader in Hannibal. Ian is also quite possibly gay, and the son of incredibly conservative Christian parents who have him enrolled in a religious program designed to turn him straight. When Ian runs away from home, his first stop is the library, where Lucy finds him early one morning. Somehow they end up in her car, with Lucy basically stuck continuing on with him in order to avoid the appearance of having kidnapped him.
Thoughts on the story:
Lucy is an incredibly obnoxious character from the get-go. Her self-righteous indulgence gives The Borrower a feeling of being about ISSUES. Now, my personal beliefs line up more or less with Lucy's, but her attitude is an incredible turn-off, as is her inability to admit agency for anything that happens in her life. This combination of character traits garners no sympathy for her in the early pages of the book, as much as she feels that she has been trapped into the pseudo-kidnapping. Luckily much of this self-righteousness wears off over the course of the book, making her bearable by the end.
One particularly interesting device in The Borrower is the co-opting of children's book plots such as Where's Spot and The Very Hungry Caterpillar to show Lucy's physical and emotional state of being. It is certainly clever in a book where the main character is a children's librarian, but nearly every time it simply seems to go on too long. It also seems a little strange that the books whose plots are co-opted are geared to such young children, when Lucy's favorite patron at the library is 10.
Thoughts on the audio production:
I must say, if I had encountered The Borrower in print, I'm not sure I would have even bothered to finish it. It was only Emily Bauer's young and naive voice that began to give me a modicum of sympathy for Lucy as she began to realize just how much of a mess she had made of things. Bauer's narration wasn't perfect – her Russian accents left something to be desired, which is a bit of a problem in a book with multiple Russian characters – but in general I think that she added a good deal to my enjoyment of the story.
Overall:
This ended up as a fairly engaging listen despite some significant problems in the beginning. If you are going to experience it, I recommend audio.
Buy this book from:
Powells: Audio/Print*
Indiebound: Audio/Print*

I'm launching a brand-new meme every Friday! I encourage you to review any audiobooks you review on Fridays and include the link here. If you have reviewed an audiobook earlier in the week, please feel free to link that review as well. Thanks to Pam for creating the button.
Source: Publisher, via LibraryThing Early Reviewers.
* These links are all affiliate links. If you buy your book here I'll make a very small amount of money that goes towards hosting, giveaways, etc.
Copyright protected by Digiprove © 2011