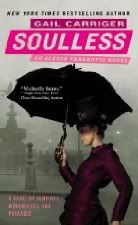 Soulless by Gail Carriger
Published by Orbit Books, an imprint of Hachette
This is the first book in the Parasol Protectorate series.

Being a soulless, half-Italian spinster doesn't exactly put Alexa Tarabotti at the top of the height of the Victorian social scene. Basically ignored and disdained by her mother and flouffy half sisters (think Cinderella's evil stepsisters, but too stupid to be truly evil). Even though she isn't exactly sought after, she still is not used to being attacked by vampires at dinner parties. A normal vampire would know better than to attack someone who is soulless, since the soulless negate the powers of the over-soulled paranormal creatures like vampires and werewolves. Next thing Alexa knows, she is working with the Lord Maccon to discover what is happening to the plethora of missing werewolves and vampires, as well as the strange new creatures which have been wandering around London.
Soulless is a highly entertaining, quite funny paranormal steampunk romance:
Her mama thought her a bluestocking, which was soulless enough as far as Mrs. Loontwill was concerned, and was terribly upset by her eldest daughter's propensity for libraries. – p. 17
If the description of 'paranormal steampunk romance' makes it sound like Soulless suffers from an excess of genres, that may in fact be the case, but Carriger pulls all of them off quite well, neither taking them too seriously nor making them too ridiculous. Alexa Tarabotti is a strong-willed young woman who makes for a fantastic protagonist, but perhaps even more interesting than Alexa was Carriger's alternate Victorian era, which was molded quite well from the world with which we are familiar:
Miss Tarabotti shook her head in sorrow. The narrowmindedness of it all! She knew her history. The puritans left Queen Elizabeth's England for the New World because the queen sanctioned the supernatural presence in the British Isle. The Colonies had been entirely backward ever since: religious fingers in all their dealings with vampires, werewolves, and ghosts. It made America into a deeply superstitious place. Fates only knew what they'd think of someone like her! -p. 102
All in all it makes for a very enjoyable romp of a read. I definitely plan on continuing in this series.
Buy this book from:
Powells | Indiebound*
Source: Personal copy.
* These links are all affiliate links. If you buy your book here I'll make a very small amount of money that goes towards hosting, giveaways, etc.
Copyright protected by Digiprove © 2011