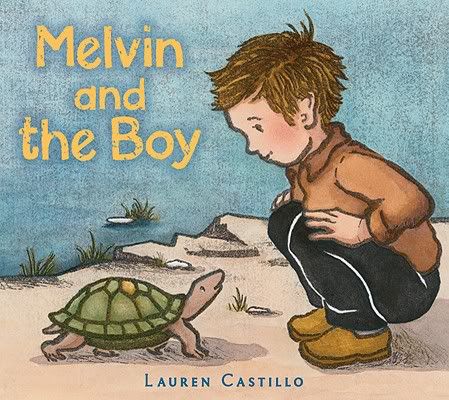 Welcome to Saturday Story Spotlight, my feature where I discuss books my husband and I are reading with our son, Daniel. These are books that he, we, or all of us particularly enjoy.
Melvin and the Boy by Lauren Castillo
Published by Henry Holt Books for Young Readers, an imprint of Macmillan

When a child – or anyone, really – wants something, sometimes it seems as if they are the only one around without that thing they want. In the case of the protagonist of Melvin and the Boy, the desired object is a pet. It seems like everyone besides our unnamed narrator has one: dogs, cats, rabbits, anything and everything. The main character isn't terribly concerned about what kind of pet he gets, but his parents turn down all sorts of things as too noisy, too much work, too big. When he finds a turtle at the park, one he names Melvin, none of their usual objections apply, but can a wild turtle be happy as a pet?
If for no other reason, Melvin and the Boy is worth picking up for the beautiful illustrations. Every picture is just beautiful and charming, with fabulous contrast between bright and subdued colors. There is so much to look at on every page that the squirmiest toddler is sure to focus, and yet Castillo manages not to go too far in the other direction and make the illustrations too busy, they are just wonderfully nuanced.
In addition to the beautiful illustrations, there is also an important message in Melvin and the Boy about letting wild creatures stay wild. Melvin is unhappy living in an apartment where the only thing that feels vaguely familiar is the bath tub. There is also a bonus for older children at the end of the story, a full page spread of very interesting turtle facts. Daniel is a little young for that part, but he loves the rest of the book and, quite frankly, I have spent some time reading the turtle facts myself, as they are really quite interesting. Did you know that turtles have excellent eyesight?
Highly recommended.

Buy this book from:
Powells | Indiebound*
Source: Publisher
* These links are all affiliate links. If you buy your book here I'll make a very small amount of money that goes towards hosting, giveaways, etc.
Copyright protected by Digiprove © 2011