June was a big month at Devourer of Books, with the entire week of June 6-10 devoted to Audiobook Week. Vacation saved me, though, Iand I still managed to finish 18 books, including 4 audiobooks, for a total of 3900 pages read and over 34 hours listened.
Below is a list of my posts from this past month, including a pick of the month, followed by a list of the other books I read in June.
What I Reviewed:
Audiobooks
Faith by Jennifer Haigh, narrated by Therese Plummer
Trespass by Rose Tremain, narrated by Juliet Stevenson
Sweet Jiminy by Kristin Gore, narrated by Hillary Huber
Revolution by Jennifer Donnelly, narrated by Emily Janice Card and Emma Bering
A Covert Affair by Jennet Connant, narrated by Jan Maxwell
Matched by Ally Condie, narrated by Kate Simses
Bossypants by Tina Fey, narrated by Tina Fey
Fiction
The First Husband by Laura Dave
The Little Women Letters by Gabrielle Donnelly
The Girl in the Garden by Kamala Nair
The Art of Forgetting by Camille Noe Pagan
Things We Didn't Say by Kristina Riggle
Mystery
Grace Interrupted by Julie Hyzy
Three Act Tragedy by Agatha Christie
Zombies
Flip This Zombie by Jesse Petersen
Eat Slay Love by Jesse Petersen
Deadline by Mira Grant
Historical Fiction
Vlad: The Last Confession by C.C. Humphreys
Nonfiction
The Statues That Walked by Carl Lipo
Saturday Story Spotlight
Where's Baby's Birthday Cake by Karen Katz
A to Z by Sandra Boynton

Other Posts:
Cool Down with Agatha Christie – Endless Night discussion
2010-2011 My Audiobook Year – Audiobook Week Discussion
Sound Effects in Audiobooks – Audiobook Week Discussion
Audiobook Week Mid-Week Meme
Audiobooks for the Uninitiated – Audiobook Week Discussion
Audiobook Resources – Audiobook Week Discussion
Pick of the Month: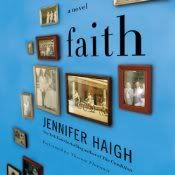 Faith by Jennifer Haigh, narrated by Therese Plummer
Other Books Read, Watch for Reviews:
Audiobook
Restoration by Rose Tremain, narrated by Rupert Degas
The Alice Behind Wonderland by Simon Winchester, narrated by Simon Winchester

Fiction
Soulless by Gail Carringer
If Jack's in Love by Stephen Wetta
The White Devil by Justin Evans

Mystery
Books Can be Deceiving by Jennifer McKinlay
Historical Fiction
Leaving Van Gogh by Carol Wallace
Incognito by Gregory Murphy
Nonfiction/Memoir
Tolstoy and the Purple Chair by Nina Sankovitch
An Accidental Mother by Katherine Anne Kindred
Note: Some of these books were provided to me for review.
Copyright protected by Digiprove © 2011