So I had a good reading month, thanks largely to the week where my husband was away and it was too hot to do anything besides lay around and read after Daniel went to bed. I finished listened to 6 audiobooks for almost 60 hours (commutes, plus hours each night just trying to cool off to even be able to turn pages), and read over 4600 pages in 14 books. Below you will find the books I reviewed this month, followed by my pick of the month and the other books read this month and not yet reviewed.
What I Reviewed:
Audiobooks
The Alice Behind Wonderland by Simon Winchester, narrated by Simon Winchester
State of Wonder by Ann Patchett, narrated by Hope Davis
Snakewoman of Little Egypt by Robert Hellenga, narrated by Colleen Marlo (?)
The Sweet Relief of Missing Children by Sarah Braunstein, narrated by Xe Sands
Apollo's Angels by Jennifer Homans, narrated by Kirsten Potter
Fiction
The White Devil by Justin Evans
Warm Bodies by Isaac Marion
Joy for Beginners by Erica Bauermeister
Tethered by Amy MacKinnon
Mystery
The Pale Horse by Agatha Christie
Books Can Be Deceiving by Jenn McKinlay
Historical Fiction
Incognito by Gregory Murphy
The Reservoir by John Milliken Thompson
Young Adult Fiction
Forever by Maggie Stiefvater
Words by Heart by Ouida Sebestyen

Nonfiction/Memoir
Tolstoy and the Purple Chair by Nina Sankovitch
Saturday Story Spotlight
The Alphabet Book by P.D. Eastman
Melvin and the Boy by Lauren Castillo
Jack and the Beanstalk by Nina Crews
The Lost and Found Pony by Tracy Dockray
Curious George and the Pizza by Margaret and A.H. Rey
Other Posts:
Authors Helping Authors, an Interview with Authors Kim Wright and Sarah Pekkanen
Cool Down with Agatha Christie – And Then There Were None Discussion
BOOK CLUB – The Reservoir by John Milliken Thompson
Me, Elsewhere:
Book Blogger Q&A on The Book Base
Gone With the Chunksters on The Heroine's Bookshelf
Working With Book Bloggers on Blurb is a Verb
Whats Old is New Episode 13: Interview with Nina Sankovitch, author of Tolstoy and the Purple Chair
What's Old is New Episode 14 – Season 1 Wrap Up
Pick of the Month: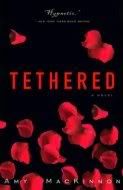 Tethered by Amy MacKinnon
Other Books Read, Watch for Reviews:
Audiobook
A Jane Austen Education by William Deresiewicz, narrated by Sean Pratt
Harry Potter and the Sorcerer's Stone by J.K. Rowling, narrated by Jim Dale
Dead End in Norvelt by Jack Gantos, narrated by Jack Gantos
White Woman on a Green Bicycle by Monique Raffey, narrated by Adjoa Andoh
Fiction
Domestic Violets by Matthew Norman
Madame Bovary by Gustave Flaubert (no review)
Madame Bovary's Daughter by Linda Urbach
School of Night by Louis Bayard
Historical Fiction
The Tea Rose by Jennifer Donnelly
This Burns My Heart by Samuel Park
Speculative Fiction
Embassytown by China Mieville
Note: Some of these books were provided to me for review.
Copyright protected by Digiprove © 2011