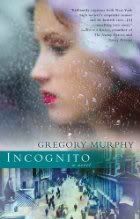 Incognito by Gregory Murphy
Published by Berkley Trade, an imprint of Penguin
The Gilded Age was a time of big personalities and incredibly powerful people. Lawyer William Dysart is working for just one such person: Lydia Billings, widow of an extremely wealthy Wall Street financier. She wants a piece of property the abuts her own, owned by a single woman. Surely this is a simple task for a well-connected society lawyer, nothing more than talking an older woman into selling her land, making her realize that Lydia Billings will obtain it one way or another. What William finds, though, is not an old farmer's wife, but a smart, loevly young woman name Sybil Curtis, and Sybil is not selling for anything. Coming at a time when he is growing increasingly disenchanged with his gorgeous but cruel and grasping wife, William quickly becomes enchanted with Sybil, unable to forget about her. Now William must decide what he wants from life, as well as satisfy his curiousity as to what the true history is between Sybil and Lydia.
Incognito is a very engaging book with a fascinating historical setting, always easy to pick up. Unfortunately, it was also relatively easy to put down; the characters, from William Dysart right down to the most bit player, were interesting, but shallowly drawn. Additionally, It is billed as a Gilded Age mystery, but nothing about it is particularly mysterious. Certainly, the question of the relationship between Lydia Billings and Sybil Curtis is an interesting one, but not a driving enough part of the story to consider it the central mystery of the book. The characters, from William Dysart right down to the most bit player, were interesting, but shallowly drawn. Finally, the Gilded Age setting seems almost incidental to the plot itself, lacking the real force of compelling place and time-based historical fiction.
All that being said, for all its faults, Incognito really was an absorbingly diverting book, and worthwhile if you're looking for a Gilded Age beach read.
Buy this book from:
Powells | Indiebound*
Source: Publisher.
* These links are all affiliate links. If you buy your book here I'll make a very small amount of money that goes towards hosting, giveaways, etc.
Copyright protected by Digiprove © 2011