Welcome to BOOK CLUB, which I run with co-conspirator Nicole from Linus's Blanket. Today we will be chatting about The Reservoir by John Milliken Thompson, which was released at the end of June from Other Press (website | twitter | facebook). For those of you reading this post, please remember that this discussion is likely to contain spoilers.
Here is the synopsis of the book I wrote for my review:
When a young, pregnant woman, Lillie, is found floating dead in Richmond's reservoir, the cause of death is originally thought to be suicide, but soon the evidence piles up so that murder is suspected. Before too long, the police pick up Lillie's cousin Tommie, with whom she had been having a fling. As it becomes more and more obvious that Tommie was with Lillie the night she died, he is put on trial for her murder, his own life hanging in the balance.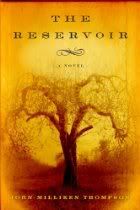 Before we get started, here are some of the reviews of readers who will be participating today:
Caribou's Mom
Devourer of Books
House of the Seven Tails
Indie Reader Houston
Linus's Blanket
That's What She Read
If you plan on participating in today's BOOK CLUB, please consider subscribing to comments at the bottom of the page (please use the TOP subscription option, the second option will subscribe you only to replies of your own comments).  I will be updating this post with new questions and ideas over the course of the day.
Here we go…
First off, what were your general impressions of the book?
Is this a book you would have read had you not been reading it for a book club?
I suspect some people will be put off by the distant language. Did you find yourself able to engage with the story and characters?
Fictionalizing true crime can be difficult. Do you think that Thompson struck a good balance between the different genre elements of his story?
Richmond reacted quite strongly to Lillie's death and Tommie's accusation. What does their reaction tell us about the mood of the town post-Civil War? Was the level of engagement a believable part of the story for you?
Thompson tells Tommie's story by alternating between the storyline of the trial and his earlier life and interactions with Lillie. Was this method effective?
Do you believe Tommie's final story of what happened to Lillie? If not, what do you think really happened?
12 review copies of The Reservoir were provided by Other Press in order to facilitate this discussion.  Thank you!
Copyright protected by Digiprove © 2011