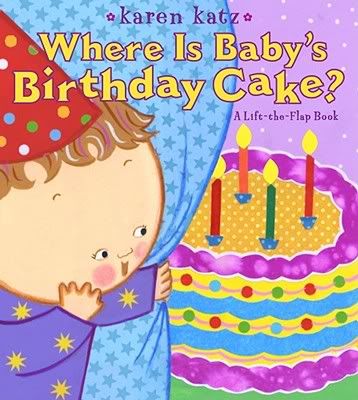 Welcome to Saturday Story Spotlight, my feature where I discuss books my husband and I are reading with our son, Daniel. These are books that he, we, or all of us particularly enjoy.
Where is Baby's Birthday Cake? by Karen Katz
Published by Little Simon, an imprint of Simon & Schuster

It occurred to me recently that I haven't shared any Karen Katz for Saturday Story Spotlight, and I'm not exactly sure how I committed such an oversight.
Daniel loves Karen Katz's books featuring 'Baby.' In most of them, Baby (not always the same baby, by the way) is looking for something, looking behind, under, and inside things to find it. This is accomplished by the reader lifting the flaps and looking at the shiny things beneath them. In Where is Baby's Birthday Cake? Baby looks under the bed and finds presents, behind a chair and finds balloons, and in the refrigerator and finds ice cream.
Karen Katz's books are basically 100% guaranteed to captivate Daniel. He loves anything with flaps to list, and Katz's books are extra good because of all of the shiny elements. I appreciate that the babies alternate gender from book to book, but always are sort of nondescript, other than a pronoun here or there. I do wish, however, that she had more diverse babies. Looking through the covers of her books, I can see that Katz has a few babies of African descent, and certainly some of the babies have slightly darker skin than others, but the vast majority of her babies appear to be Caucasian.
We enjoy Karen Katz and Daniel has been particularly enjoying reading Where is Baby's Birthday Cake? in preparation for his own birthday today; if only she would start publishing a greater diversity of babies in her books I would be an undying fan.
Buy this book from:
Powells |  Indiebound.
Source: Personal copy
* These links are all affiliate links. If you buy your book here I'll make a very small amount of money that goes towards hosting, giveaways, etc.
Copyright protected by Digiprove © 2011