Of all the newly acquired nonfiction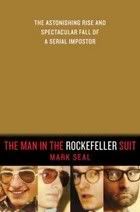 on my shelves, one book, out this week, is calling to me more than any other: The Man in the Rockefeller Suit by Mark Seal. I vaguely remember the story of the Rockefeller who was not truly a Rockefeller three years ago when Clark Rockefeller was arrested (really? A Rockefeller named Clark? Shouldn't that have been everyone's first clue?), but I don't really know much about his story. The question of how anyone could get away with claiming to be a Rockefeller, of all things, for years is beyond me, and I really can't wait to find out.
If you're interested in checking out The Man in the Rockefeller Suit, this excerpt is sure to lure you in.
In addition the copy on my shelves currently issuing a siren song, I also have one copy to give away to a reader with a US or Canadian mailing address. Enter by the end of the day Wednesday, June 8.
Copyright protected by Digiprove © 2011