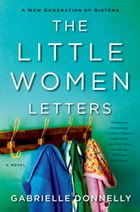 The Little Women Letters by Gabrielle Donnelly
Published by Touchstone, an imprint of Simon & Schuster

Lulu is the failure of the Atwood family, at least that's how she feels. Her younger sister, Sophie, seems to actually be on the verge of a successful acting career, and their responsible elder sister Emma is getting married. Lulu is not in a relationship, and has no idea what she wants to do with her life, taking dead-end jobs that drive her parents mad. Somewhat depressed, Lulu is up in the attic on an errand when she discovers a trove of letters from her great-grandmother Jo March to Jo's sister, Meg. Jo reminds Lulu so much of herself: unsure the path she wants to take in life, unwilling to enter into romantic entanglements with her neighbor. Both women are spunky, but somewhat lost. Watching Jo find herself in the series of letters, Lulu begins to feel better about her prospects, and finds herself too.
A fascinating idea to me, the concept of Little Women never having existed, because the Atwood sisters are continuing to live in the March sisters' universe. Even so, just as millions of young girls have found strength in Jo March, her great-granddaughter is able to do the same. Donnelly had a bit of a tricky line to walk with The Little Women Letters. On one hand, she could have made them too much carbon copies of the March girls and their experiences, and made the whole book trite and derivative. On the other hand, she could have made them too very different from Jo and her sisters and the Little Women angle would have felt tacked on. Instead, Donnelly found a lovely balance. Leaving out Beth, she imbued the other three March girls into each of the girls in the Atwood family, while still leaving Emma, Lulu, and Sophie to be thoroughly modern English girls.
Perhaps the best part of The Little Women Letters were the titular letters which Lulu discovered in the attic. Donnelly caught Jo's voice and style very well, creating letters that are not canonical to Little Women, but do mesh with the happenings in the book.
All in all The Little Women Letters is a hugely enjoyable novel for fans of Little Women. Recommended.
Buy this book from:
Powells | Indiebound*
Source: publisher, for an episode of What's Old is New.
* These links are all affiliate links. If you buy your book here I'll make a very small amount of money that goes towards hosting, giveaways, etc.
Copyright protected by Digiprove © 2011