This is part of the Cool Down With Agatha Christie summer extravaganza. Three participants in today's discussion will win a copy of next month's readalong book, And Then There Were None, as well as an Agatha Christie mystery prize pack. Next month we will be reading And Then There Were None, if you would like to join us, please sign up on the Google form.

Today we are discussing one of Agatha Christie's later standalone works, Endless Night.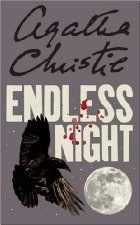 When penniless Michael Rogers discovers the beautiful house at Gypsy's Acre and then meets the heiress Ellie, it seems that all his dreams have come true at once. But he ignores an old woman's warning of an ancient curse, and evil begins to stir in paradise. As Michael soon learns: Gypsy's Acre is the place where fatal "accidents" happen.
Agatha Christie tends to use third person narration, the only exceptions I am aware of being The Murder of Roger Ackroyd and, of course, Endless Night. What did you think of her use of first person here?
The way that this story advances is also very different from the way most of Agatha's stories advance, with no dead body for quite some time. What were your thoughts while reading, did you find it suspenseful?
With whom did you most identify while reading, Michael or Ellie?
When the dead body finally did show up, what did you think was the ultimate cause of death? Did you suspect anyone?
Endless Night ends with a big twist, did you see it coming? What did you think of the way Christie chose to end the story?
Copyright protected by Digiprove © 2011