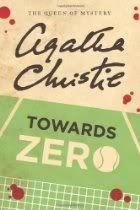 Towards Zero by Agatha Christie
Published by Harper Paperbacks, an imprint of HarperCollins

If you are interested in Agatha Christie's standalone novels like Towards Zero, check out the readalong I will be hosting this summer.
People tell you that Agatha Christie is a master, but you have to read her yourself to fully understand. Take, for instance, this setup early in Towards Zero:
I like a good detective story," he said. "But you know, they begin in the wrong place! They begin with the murder. But the murder is in the end. The story begins long before that – years before sometimes – with all the causes and events that bring certain people to a certain place at a certain time on a certain day…. All converging towards a given spot… And then, when the time comes – over the top! Zero Hour. Yes, all of them converging towards zero." -p. 4
There is no murder until over 100 pages into the story. This could easily be the story of a simple family drama. The disapproving elderly surrogate mother; the man and his new wife visiting at the same time as his ex-wife; the man who has been in love with the ex-wife since childhood, and the one who has been in love with the current wife since childhood. Instead, I spent nearly 120 pages uncomfortable, wondering who would be murdered, and by whom.
Even before knowing the victim, my brain was working overtime to find the culprit. Oh, the red herrings! Every few pages I would feel that a character had tipped his or her hand, provided just the clue I needed to know who was going to have done it. Except, as soon as I started to feel smug, that character would make it plain that while she was a great suspect, she was far too obvious. For example, I had just started to suspect the elderly woman's companion, when she said this:
"Oh, I plan things," said Mary vaguely. "In my mind, you know. And I like experimenting sometimes – upon people. Just seeing, you know, if I can make them react to what I say in the way I mean." p. 101
Far too obvious, Mary clearly couldn't be the killer. I suspected every – or nearly every – character at one point or another, but I never came close to understanding the murderer or the crime until the big reveal at the ending. It made perfect sense, the clues were all there, but I missed them entirely. I was ever so slightly disappointed with the story elements following the big reveal, but the mystery itself was perfect, and the tension Christie built leading up to the murder was beyond masterful. It is obvious upon reading Towards Zero why she has been outsold only by Shakespeare and The Bible. Highly recommended.
Buy this book from:
Powells | Indiebound*
Source: Publisher.
* These links are all affiliate links. If you buy your book here I'll make a very small amount of money that goes towards hosting, giveaways, etc.
Copyright protected by Digiprove © 2011