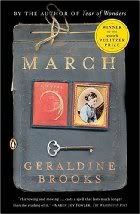 March by Geraldine Brooks
Published by Penguin
When I reread Little Women this year, one thing that stood out to me more than anything else was just how completely absent Mr. March was from the story. I actually found him more present during the section when he is away at war, because his absence and more of an effect on the lives of his daughters than did his presence. Who is this man who meant so much to his daughters when he was gone, but seemed to mean so little when he came back? Even Sallie Moffat has better character development than Mr. March! Where Louisa May Alcott leaves a hole, however, Geraldine Brooks steps in to fill it. March details Mr. March's sojourn to the South as a young man, and his return as a chaplain with the Union Army during the Civil War.
The Mr. March of Brooks's imaginings is a deeply flawed man. He lusts after other women, even after marrying Marmee, and is about the least comforting and inspiring chaplain in the history of chaplains. He's so bad, in fact, that he is basically fired from this job and shunted to a different army post where he won't annoy an entire company of soldiers. But not only is Mr. March flawed, Marmee is flawed as well! She's very conflicted about her husband gallivanting off to war, and puts on a brave face for her daughters.

I know that some readers are very bothered by these no longer idealized characters of Mr. March and Marmee, but as a parent – and a human being – I found them incredibly reassuring. Who can live up to the example of Marmee in Little Women, really? She is ever good, right-thinking and right-feeling. Someone who does not worry about material goods but is quite content to make do. Yet, as Geraldine Brooks writes her, Marmee is human. She can be furious with her husband, frustrated at their situation, but continue to put on a show for her daughters so that they do not feel the depths of their poverty, so they do not worry overmuch about their father. This, people, is parenting. How much more a realistic role model she is now to everyone who reads her story.
Mr. March is perhaps not actually made to be more sympathetic and realistic in March, but he does harken back to Louisa May Alcott's ACTUAL crazypants father, Bronson Alcott far more than the canonical Mr. March does, which makes him very interesting at least, and a good stepping stone for curious readers to learn just what Louisa and her family lived with.
Although some parts of March were so Bronson that I didn't feel they quite fit into Little Women, I still really enjoyed where Brooks took the story. Recommended.
I read this book for the episode of my What's Old is New podcast about Little Women.
Buy this book from:
Powells | Indiebound*

Source: Personal copy.
* These links are all affiliate links. If you buy your book here I'll make a very small amount of money that goes towards hosting, giveaways, etc.