It is that time again! We are gearing up for this month's discussion of The Convert by Deborah Baker (Tuesday, May 17 on Nicole's blog), but it is also time to give away next month's BOOK CLUB selection. In June we will be reading another offering from Other Press, The Reservoir by John M. Thompson.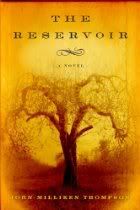 We will be discussing The Reservoir here on Tuesday, June 28th.
From the publisher:
On an early spring morning in Richmond, Virginia, in the year 1885, a young pregnant woman is found floating in the city reservoir. It appears that she has committed suicide, but there are curious clues at the scene that suggest foul play. The case attracts local attention, and an eccentric group of men collaborate to solve the crime. Detective Jack Wren lurks in the shadows, weaseling his way into the investigation and intimidating witnesses. Policeman Daniel Cincinnatus Richardson, on the brink of retirement, catches the case and relentlessly pursues it to its sorrowful conclusion. As the identity of the girl, Lillie, is revealed, her dark family history comes to light, and the investigation focuses on her tumultuous affair with Tommie Cluverius.

Tommie, an ambitious young lawyer, is the pride and joy of his family and the polar opposite of his brother Willie, a quiet, humble farmer. Though both men loved Lillie, it's Tommie's reckless affair that thrusts his family into the spotlight. With Lillie dead, Willie must decide how far to trust Tommie, and whether he ever understood him at all. Told through accumulating revelations, Tommie's story finally ends in a riveting courtroom climax.

Based on a true story, The Reservoir centers on a guilty and passionate love triangle composed of two very different brothers and one young, naive girl hiding an unspeakable secret. A novel of lust, betrayal, justice, and revenge, The Reservoir ultimately probes the question of whether we can really know the hearts and minds of others, even of those closest to us.
If you would like to be considered as a participant for June, please fill out the form below by the end of the day Wednesday, May 18. Your mailing address will be discarded if you aren't selected to participate and used to mail you the book if you are. I do not share or retain any personal information. Only those selected will be contacted by email.
Copyright protected by Digiprove © 2011