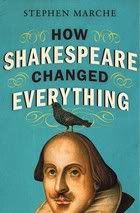 How Shakespeare Changed Everything by Stephen Marche
Published by Harper Books, an imprint of Harper Collins
The game is up and I'm in a pickle. Perhaps I'm just being cold-blooded, but there will be no reprieve. Cry havoc and let slip the dogs of war!
I imagine you would be hard pressed to find anyone who denies the influence of Shakespeare on the modern world. Or, in the case of those anti-Stratfordians, the work that is generally attributed to Shakespeare, regardless of who actually wrote it.To begin with, he coined some 1700 words, many of which are still used today. Stephen Marche's thesis, though, is somewhat more than a nebulous claim of general influence. He asserts that Shakespeare actually changed, well, everything. Everything from sex to racial relations to teenagers. Marche even sees Obama's victory – and the continuing opposition to him – as being heavily influenced by Shakespearean tropes:
The fact that 18 percent of Americans still believe that Obama is Muslim, the continuing power of the birther movement despite the clear-cut evidence that he was born in America, testify to Othello's power as a prepared narrative. For many Americans, Obama remains a noble Moor in the mold that Shakespeare cast. – p. 21
Except I'm pretty sure that isn't the case. I would say pure and simple racism, with a bit of overwhelming political ideology, and a heavy helping of propaganda. I really don't buy the whole 'inspired by Shakespeare' thing in this case, and on page 21 of 200, that isn't a particularly good sign. Generally Marche didn't seem to be quite as out in left field as that, but he did have a tendency to (vastly) overstate his case. For example:
Shakespeare has improved your sex life. If you've had sex without shame, sex for pleasure, for fun, for any other reason than procreation within marriage – Shakespeare, more than any other single figure, is responsible for the climate of permissiveness that made it possible. -p. 39-40
Because, you know, nobody ever had sex for pleasure before Shakespeare. I'm surprised the human race even made it to the 17th century.
Not to say that How Shakespeare Changed Everything was completely without value. Certainly there were many interesting facts about Shakespeare, his work and how aspects of our modern world match up. Certainly there are have been many homages to Shakespeare in the 400 odd years since he was writing, and many of these homages have shaped our everyday lives. To grant him complete agency over sex or Lincoln's assassination, simply because his words and creations have been co-opted by others, seems a bit unwarranted.
Interesting if you are looking for evidence of how Shakespeare continues to be important in the world (and that is right up my alley), but don't pick it up if hyperbole annoys you.
Buy this book from:
Powells | Indiebound*
Source: Publisher.
* These links are all affiliate links. If you buy your book here I'll make a very small amount of money that goes towards hosting, giveaways, etc.
Copyright protected by Digiprove © 2011