You may have heard that HarperCollins is reissuing all of Agatha Christie's books exclusively. To celebrate, they have enlisted my help, along with Book Club Girl and three other bloggers to host an Agatha Christie Summer Readalong Extravaganza called "Cool Down With Agatha Christie," which will be taking place this June, July, and August.
Here's what HarperCollins has to say about the reissues:
HarperCollins is proud to now be Agatha Christie's global publisher and will be reissuing all of her books in beautiful trade paperback editions. These wonderful authentic editions are exactly as Christie wrote them using the original UK texts. Read

all of the Christie mysteries including the Hercule Poirot Mysteries, the Miss Marple Mysteries, and the Tommy and Tuppence Mysteries (Winter 2012). And don't miss a single one of Christie's stand-alone novels and short stories.
I will specifically be hosting a readalong of some of the standalone books during the fourth Friday of every month. If you want to start getting ready now, here is my schedule:
Endless Night – June 27
And Then There Were None (previously known as Ten Little Indians)– July 25
Ordeal by Innocence – August 22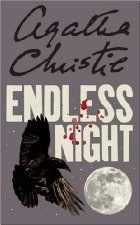 I will have five copies of each to give away to people who plan to participate, as well as one mystery prize to be given away to a participant in each discussion.
Feel free to grab the general button and/or the one specifically for my standalones readalong:
As I said, though, I am one of five bloggers co-hosting this event. Check out what everyone else is doing as well:
Jen from Book Club Girl: Agatha Christie short stories – schedule
Julie from Booking Mama: Poirot – schedule
Melissa from The Sunday Book Review: Miss Marple – schedule
Nicole from Linus's Blanket: movies – schedule
If you plan to participate in any of the events, we encourage to leave a link on the Mr. Linky below (please note, all of our blogs have the same Mr. Linky, so you only need to leave your information once), either to an announcement post or to your blog in general:
If you are planning to participate in my first readalong for Endless Night, please leave your name in the Google form below. I will choose five people who have signed up at random to receive copies of the book from HarperCollins. Please sign up by 11:59 pm Central on Friday, June 3. Winners will be notified over the weekend. Having a blog is NOT a requirement.
Copyright protected by Digiprove © 2011