Do you remember D.E.A.R? At my elementary school that meant "Drop Everything And Read," something we typically did for 10 or 15 minutes every day. Best part of my day, really. As my TBR and Library piles are battling for supremacy and trying to sneak in around the review copies who have staked out places on my calendar, I'm thinking back to the simpler days of D.E.A.R., when I believed I had time to get to any book I wanted. And that, of course, got me fantasizing about a world where I really could just Drop Everything And Read for more than just 15 minutes a day.
I haven't always been the biggest series fan. I was really when I was younger, because I craved the consistency of characters and style. As I matured as a reader, I started to find the courage to branch out and try new authors and meet new characters, especially as I got to know publishing houses and imprints better, which helped me know right away whether I was likely to enjoy a book or not.
But then I read Outlander by Diana Gabaldon, and suddenly I understood the draw of series again. I very much wanted to follow the continuing saga of Claire and Jaime, to see everywhere life took them. Suddenly I wanted MORE SERIES! I asked for recommendations for addictive series and received lots of great responses. Now I'm turning into a bit of a series fiend – especially after blowing through the Maisie Dobbs series already this year. I've joined fictfact.com to keep track of them all, I just wish I had more time to read them all. If I could just Drop Everything And Read, here are a few of the series I would start or complete:
To start:
The Mistress of the Art of Death by Ariana Franklin
In medieval Cambridge, England, Adelia, a female forensics expert, is summoned by King Henry II to investigate a series of gruesome murders that has wrongly implicated the Jewish population, yielding even more tragic results. As Adelia's investigation takes her behind the closed doors of the country's churches, the killer prepares to strike again. (The Mistress of the Art of Death)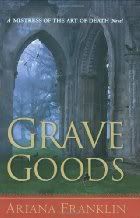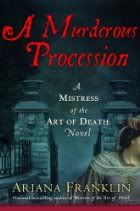 The Mistress of the Art of Death
The Serpent's Tale
Grave Goods
A Murderous Procession
The Iron Fey by Julie Kagawa
Meghan Chase has a secret destiny—one she could never have imagined…Something has always felt slightly off in Meghan's life, ever since her father disappeared before her eyes when she was six. She has never quite fit in at school…or at home.

When a dark stranger begins watching her from afar, and her prankster best friend becomes strangely protective of her, Meghan senses that everything she's known is about to change.

But she could never have guessed the truth—that she is the daughter of a mythical faery king and is a pawn in a deadly war. Now Meghan will learn just how far she'll go to save someone she cares about, to stop a mysterious evil no faery creature dare face…and to find love with a young prince who might rather see her dead than let her touch his icy heart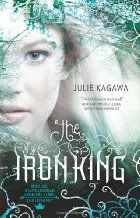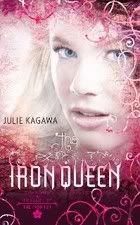 The Iron King
The Iron Daughter
The Iron Queen
The Iron Knight (not pictured)
The Spellman Files by Lisa Lutz
Meet Isabel "Izzy" Spellman, private investigator. This twenty-eight-year-old may have a checkered past littered with romantic mistakes, excessive drinking, and creative vandalism; she may be addicted to Get Smart reruns and prefer entering homes through windows rather than doors — but the upshot is she's good at her job as a licensed private investigator with her family's firm, Spellman Investigations. Invading people's privacy comes naturally to Izzy. In fact, it comes naturally to all the Spellmans. If only they could leave their work at the office. To be a Spellman is to snoop on a Spellman; tail a Spellman; dig up dirt on, blackmail, and wiretap a Spellman. (The Spellman Files)

These made my list because I just finished Lutz's HILARIOUS Heads You Lose and am dying to read more of her work.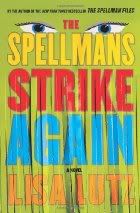 The Spellman Files
Curse of the Spellmans
Revenge of the Spellmans
The Spellmans Strike Again
To Complete:
The Newsflesh Trilogy by Mira Grant
The year was 2014. We had cured cancer. We had beat the common cold. But in doing so we created something new, something terrible that no one could stop. The infection spread, virus blocks taking over bodies and minds with one, unstoppable command: FEED.

NOW, twenty years after the Rising, Georgia and Shaun Mason are on the trail of the biggest story of their lives-the dark conspiracy behind the infected. The truth will out, even if it kills them.
This one is cheating a little, because the only reason I haven't finished it is that the next two books haven't been released yet!
Feed
Blackout (coming June 2011)
Deadline (coming January 2012)
Thursday Next by Jasper Fforde
In Jasper Fforde's Great Britain, circa 1985, time travel is routine, cloning is a reality (dodos are the resurrected pet of choice), and literature is taken very, very seriously. England is a virtual police state where an aunt can get lost (literally) in a Wordsworth poem and forging Byronic verse is a punishable offense. All this is business as usual for Thursday Next, renowned Special Operative in literary detection. But when someone begins kidnapping characters from works of literature and plucks Jane Eyre from the pages of Bronte's novel, Thursday is faced with the challenge of her career. Fforde's ingenious fantasy-enhanced by a Web site that re-creates the world of the novel–unites intrigue with English literature in a delightfully witty mix. (The Eyre Affair)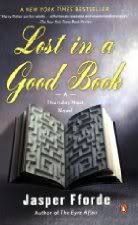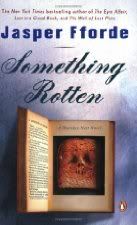 The Eyre Affair
Lost in a Good Book
The Well of Lost Plots
Something Rotten
First Among Sequels
One of Our Thursdays is Missing
What series would you grab if you could Drop Everything And Read?

Thanks to Michelle from My Books. My Life. for her inspiration for this post.
Copyright protected by Digiprove © 2011