Hopefully you all saw my post about a week ago where I announced the Book Drive I'm organizing for the students at the high school where my husband teaches. If not, I'll take a minute while you click the above link and go read about it.
I'm here to give you an update, since we're about a week in. So far we have collected over 130 books, which is AWESOME. We're hoping to open this up to as many kids in the school as possible (I believe there are over 2,000) students, so I'm glad that I know about more donations on the way, too. Everything helps, whether you have 1 book, 10 books, or 100 books to donate. New or old, advance or finished copy, everything is appreciated. We've received books that are older than the kids (some that are even 20 years old than I am) but that are fabulous works of literature in great shape, and we've received advance copies of things not out until this summer or fall, we love it all!
Here's a picture of not-quite-half of the books we have, under lock and key in the librarian's office: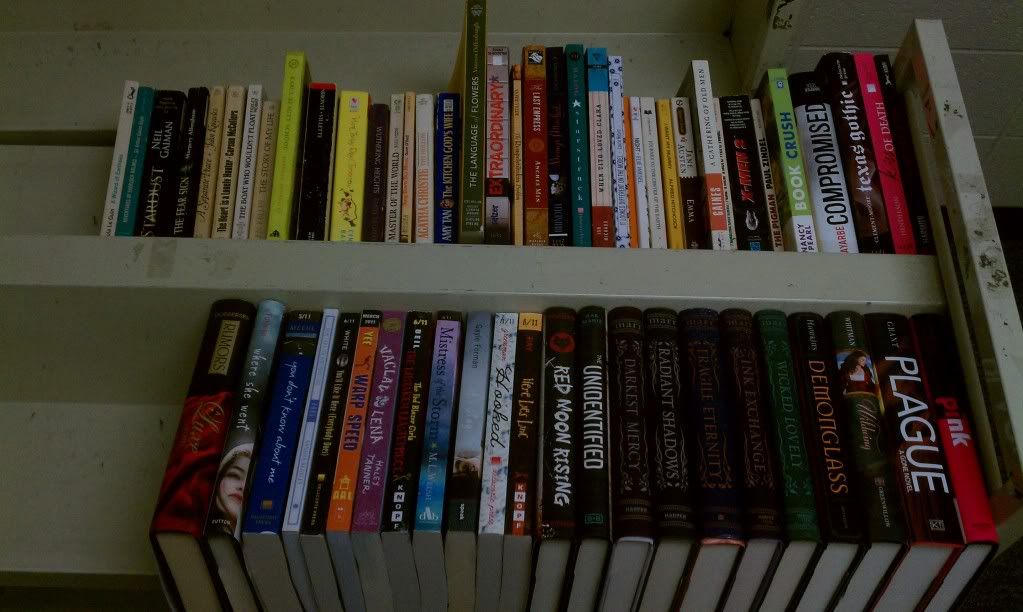 Here's how we're progressing:
This graph is interactive, so it will continue to update if you want to check back.
If you have some books you'd like to send in, you can send them to:
High School Book Drive
C/o Jen Karsbaek
738 E Dundee Rd #194
Palatine, IL 60067
If you are sending something in, I'd love it if you filled out this form. It helps me know what to expect and who to thank:
Copyright protected by Digiprove © 2011