Welcome to Saturday Story Spotlight, my feature where I discuss books my husband and I are reading with our son, Daniel. These are books that he, we, or all of us particularly enjoy.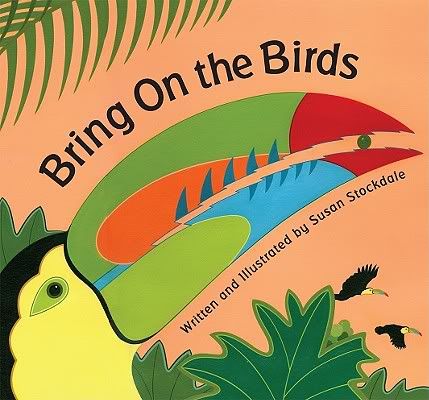 Bring On the Birds by Susan Stockdale
Published by Peachtree Publishing
Daniel has a new obsession when we are outside: birds.
Of course, the variety of birds we see around here isn't so great, mostly I don't think there is enough variation that he can even tell one bird from another, with the exception of the geese, ducks, and maybe the robins. With his current obsession he is really enjoying Susan Stockdale's Bring On the Birds.
Stockdale's book combines a great rhythm and rhyme with gorgeous illustrations, while at the same time describing the breadth of diversity among birds – diversity we don't see so much here in the Midwest. Daniel is a little young for this to be more than a general exposure to the fact that these are all birds, but parents of older children could have discussions about diversity and all the different ways that birds live. The text is relatively simple and there isn't much of it on each page, but Bring On the Birds could potentially be used for children up to 2nd or 3rd grade to talk about biodiversity.
This would be a great title to go out and get to read to your child for Earth Day.
Buy this book from:
Powells | Indiebound*
Peachtree publishing is sponsoring a blog tour of many of their Earth Day-appropriate titles. Here are the posts from last week:
Monday 4/11:
Tuesday 4/12:
Wednesday 4/13:
Book Dads
– Review of 
Planting the Wild Garden
Thursday 4/14:
Book Dads
– Interview with Wendy Anderson Halperin, illustrator of 
Planting the Wild Garden
Abby the Librarian
– Interview with Susan Stockdale, author/illustrator of 
Bring On the Birds
Friday 4/15:
There's a Book
– Interview with Melissa Stewart, author of 
A Place for Fish
Source: Publisher
* These links are all affiliate links. If you buy your book here I'll make a very small amount of money that goes towards hosting, giveaways, etc.
Copyright protected by Digiprove © 2011