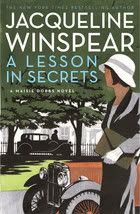 A Lesson in Secrets by Jacqueline Winspear
Published by Harper Books, an imprint of Harper Collins
My reviews of the first seven books in the series: Maisie Dobbs, Birds of a Feather, Pardonable Lies, Messenger of Truth, An Incomplete Revenge, Among the Mad, The Mapping of Love and Death.

It is the summer of 1932, and Maisie has entered a new phase of her professional life, working her first case for the British Secret Service undercover as a professor at a small private college in Cambridge.
Please pardon me while I cry for a minute about the fact that now, after having read the first eight books in three months, I have to actually wait for more Maisie Dobbs books. I mean, for goodness sake, I couldn't even wait until after the discussion of The Mapping of Love and Death in order to read this one, I started it almost immediately after finishing that book.
Once again, Winspear manages to keep her series remarkably fresh without it seeming contrived. Teaching at a small college is vastly different from anything that she has done before, but at the same time it seems completely natural for her. The most interesting part of the case, however, was how much it foreshadowed what was to come in the lead up to World War II.
Another fabulous entry into the Maisie Dobbs series! If you haven't started this series yet, what are you waiting for?
Buy this book from:
Powells | Indiebound*
Source: Publisher via NetGalley.
* These links are all affiliate links. If you buy your book here I'll make a very small amount of money that goes towards hosting, giveaways, etc.