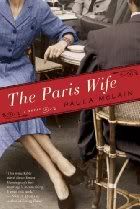 The Paris Wife by Paula McLain
Published by Ballantine Books, an imprint of Random House

When Hadley Richardson met Ernest Hemingway, something was very clearly special not only about him, but about them together. Supportive from before his career truly began, Hadley married Ernest in order to follow him to Europe. Europe, particularly Paris, was the place to be for up and coming writers in the 1920s, so it was only natural that the ambitious young Hemingway would want to be there. Things are difficult for the young couple, money is extremely tight, and Ernest's writing does not always come as quickly or easily as he hopes, but still, with a few introductions they are able to join the ranks of the bright young literati. This is a crowd, however, that Hadley never feels completely comfortable with. She is never more than the artist's wife, never valued for herself, including – it increasingly seems – by Ernest.
The Paris Wife succeeded in making me want to check out Hemingway's work, while at the same time cementing my inherent misgivings about him. Ernest was arrogant, stepping on his alleged friends and even using them and their work to advance his own. Hadley, though, was quite engaging. McLain balanced Hadley very well, making her not too modern and not too needy, but still very vulnerable and sympathetic.
A fascinating story with an engaging main character and great pacing, I can high recommend The Paris Wife.
Buy this book from:
Powells |  Indiebound | Amazon*
Source: Publisher.
* These links are all affiliate links. If you buy your book here I'll make a very small amount of money that goes towards hosting, giveaways, etc.
Copyright protected by Digiprove © 2011