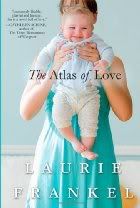 The Atlas of Love by Laurie Frankel
Published by St. Martin's Press, an imprint of Macmillan

Janey has always had a thing for babies, ever since she was six and found an abandoned baby in the planter at a hotel with her grandmother. So when Jill, one of her best friends in grad school,  gets pregnant and the father doesn't want to be involved, it seems like an obvious choice for Janey, Jill, and Katie to move in together and share parenting duties. Janey, Jill, and Katie have a classic friendship, born of loneliness, uncertainty, and terrible grad school eating habits. They have always had their own apartments, but Janey has always mothered them all, and now she'll have a real live baby to mother. Things begin swimmingly when Jill's son Atlas makes his appearance, but as the three young women try to balance school, teaching, living together, and motherhood things become predictably stressed.
The Atlas of Love could easily have been an immensely mediocre book. It would not take a Masters in Literature to predict how this experiment in shared motherhood will end. Yet it is exactly a Masters in Literature that lends The Atlas of Love its charm. Laurie Frankel teaches in an English department, and Janey and all of her friends are graduate students in English. The self-referential literature remarks, Janey's comparison of their life to the literature she studies, these things are what The Atlas of Love unique and interesting.
A touching story of friendship, parental love, and unconventional families. Recommended.
Buy this book from:
Powells | Indiebound*
Source: Publisher for SheKnows Book Club.
* These links are all affiliate links. If you buy your book here I'll make a very small amount of money that goes towards hosting, giveaways, etc.
Copyright protected by Digiprove © 2011