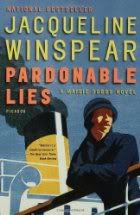 Pardonable Lies by Jacqueline Winspear
Published by Picador, an imprint of Macmillan
Book 3 in the Maisie Dobbs series.
My reviews of the first two books in the series: Maisie Dobbs, Birds of a Feather

One of the defining characteristics of Jacqueline Winspear's Maisie Dobbs is the setting between World War I and World War II. In the first two books particularly, the Great War and its ramifications are hugely important to the story, crucial to the plot, even. Now, in Pardonable Lies, Maisie is forced to confront her time in France, in the war while trying to find out whether a lost aviator truly died in the war and trying to track down the true fate of the brother of her best friend, Priscilla.
More than ever in the past two books, Maisie is intensely vulnerable in Pardonable Lies. She has to face her demons head on, and has a crisis of confidence in some of the most foundational aspects of her life. At the same time, she is being challenged by Priscilla to become more her own person, defined not entirely by her work.
This is a good continuation to the series. I liked that Winspear changed the scenery by taking Maisie to France, it helped keep the series fresh. After three books, I still recommend the series.
Buy this book from:
Powells | Indiebound | Amazon*
Source: Personal copy.
* These links are all affiliate links. If you buy your book here I'll make a very small amount of money that goes towards hosting, giveaways, etc.