I'm changing up the format of my monthly wrap-ups a bit for 2011. Instead of listing everything I read and linking to what has been reviewed, I will first be listing the books reviewed over the last month, and will include unreviewed books below, so you can see what will be coming up! This month I reviewed 15 books – 14 print and one audio – in addition to highlighting 4 books Daniel and I are reading in Saturday Story Spotlight. I also read 18 books – 16 print, two audios – for a total of about 4,400 pages and 22 hours of audio.
What I Reviewed:
Audiobooks
Genome by Matt Ridley, narrated by Simon Prebble
Fiction
13, Rue Therese by Elena Mauli Shapiro
The Eyre Affair by Jasper Fforde
Amaryllis in Blueberry by Christina Meldrum
The Gospel of Anarchy by Justin Taylor
Goodnight Tweetheart by Teresa Medeiros
Skipping a Beat by Sarah Pekkanen
The Fates Will Find Their Way by Hannah Pittard
Historical Fiction
The Last Brother by Nathacha Appanah
Wide Sargasso Sea by Jean Rhys
The Oracle of Stamboul by Michael David Lukas
Birds of a Feather by Jacqueline Winspear
Dragonfly in Amber by Diana Gabaldon
The Secret Life of Emily Dickinson by Jerome Charyn
Nonfiction
I is an Other by James Geary
A Kidnapping in Milan by Steve Hendricks
Saturday Story Spotlight
That's Not My Snowman by Fiona Watts, illustrated by Rachel Wells
Elmo's ABC Book by Deborah November, illustrated by Carol Nicklaus
Everywhere a Moo, Moo by Scholastic
Other Posts:
Randy Susan Meyers' Oh, D.E.A.R
Fairy Tales – What's Old is New
Daniel's First Blizzard
A Very Bookish Valentine's Day
Oh, D.E.A.R. – Florida
BOOK CLUB – The Last Brother
Pick of the Month: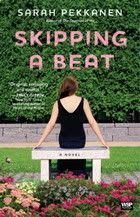 Skipping a Beat by Sarah Pekkanen
I chose Sarah's debut novel, The Opposite of Me, as a pick of the month around this time last year, but Skipping a Beat blows even the accomplishment of her first book out of the water.

Other Books Read, Watch for Reviews:
Audiobook
Matched by Ally Condie
Fiction
The Tiger's Wife by Tea Obreht
Christian Lacroix and the Tale of Sleeping Beauty by Camilla Morton, illustrated by Christian Lacroix
Mermaid by Carolyn Turgeon
Pardonable Lies by Jacqueline Winspear
The Girl in the Green Raincoat by Laura Lippman
Wither by Lauren DeStefano
The Paris Wife by Paula McLain
Married with Zombies by Jesse Petersen
Nonfiction
Blood Work by Holly Tucker
Note: Some of these books were provided to me for review.
Copyright protected by Digiprove © 2011