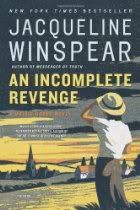 An Incomplete Revenge by Jacqueline Winspear
Published by Picador, an imprint of Macmillan

My reviews of the first four books in the series: Maisie Dobbs, Birds of a Feather, Pardonable Lies, Messenger of Truth.

Whether the problem is summer or simply the increasingly dire economic depression, business is tough for Maisie. So tough that she is quite happy that her employee, Billy, will be off picking hops in Kent for a week with his family, because it relieves her from having to pay his salary when there is no work coming in. Coincidentally enough, when work does come in, in the form of James Compton, son of Maisie's benefactor Lady Compton, Maisie finds herself heading for Kent as well. Compton's company is interested in a brickworks, but is concerned about the small fires that occur in the town yearly, as well as the acts of petty vandalism. Eventually, the mystery traces back to what happened during the war, both in France and at home, as all of Maisie's cases do.
This is probably my favorite Maisie Dobbs book so far, which is a relief since the fourth book, Messenger of Truth, was probably my least favorite. My love of this one is a combination of a couple factors. First was the exploration of community and how small towns dealt with losing most of their young men in the war, and what that left them in the aftermath. Secondly, we were able to explore more of Maisie's past and her family history. It is revealed relatively early on in this book that Maisie's grandmother was a gypsy, which accounts for her gift of something that is a little more than intuition. I was happy to finally have an explanation of that, because Maisie's occasional near clairvoyance has always bothered me just a bit.
The most captivating and moving of the Maisie Dobbs book yet. Bring on book five! If you haven't started this series yet, what are you waiting for?
Buy this book from:
Powells | Indiebound*
Source: Personal copy.
* These links are all affiliate links. If you buy your book here I'll make a very small amount of money that goes towards hosting, giveaways, etc.
Copyright protected by Digiprove © 2011