It is the new dance craze sweeping the nation! Or, our house, at least. Chickens (and frogs) seem to be Daniel's new favorite animals and he has created a dance in their honor, one he does EVERYWHERE.
The beginning of this week was really slow reading-wise (can you blame me, with that dance going on all the time?), but a couple of books really captivated me at the end of the week and jump-started my reading again. This is a good thing, because I plan on spending the vast majority of next weekend reading, and a reading slump would NOT be a good thing. There's still time to help me decide what books to take to Florida, by the way. Here's what I finished this week: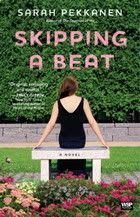 And, oh my gosh, the TEARS created by Skipping a Beat! You'll hear more about that in my review tomorrow, though.
In case you missed any of it, here is what I reviewed last week:
Copyright protected by Digiprove © 2011