Do you remember D.E.A.R? At my elementary school that meant "Drop Everything And Read," something we typically did for 10 or 15 minutes every day. Best part of my day, really. As my TBR and Library piles are battling for supremacy and trying to sneak in around the review copies who have staked out places on my calendar, I'm thinking back to the simpler days of D.E.A.R., when I believed I had time to get to any book I wanted. And that, of course, got me fantasizing about a world where I really could just Drop Everything And Read for more than just 15 minutes a day.
Most of these D.E.A.R. posts are predicated on the idea that I would love nothing more than to just drop everything and read. Would that I could get to all of these books, and all that. Well, one week from today I actually sort of have that opportunity. I'm leaving Daniel home with his daddy and heading to Florida to spend the weekend reading in the warmth with some girlfriends. Reading really and truly comprises the majority of my plans, so now I have to decide just what to take with me. I may have a couple of review books to take, but other than that, I have a huge pile of books and have to decide which ones to lug with me. I'll be there three full days and parts of two others, so I'm thinking about 5 books from the pile, in addition to the virtual pile on my Nook and the couple of review books. Inspired by Erica from Harper Perennial, I decided to turn to all of you to help me figure out what to read.
The rules: Choose from the picture and list below, leave your vote(s) in the comments. The five(ish) books with the most votes get an all expenses paid trip to Florida. Super convincing impassioned please may be counted as extra votes.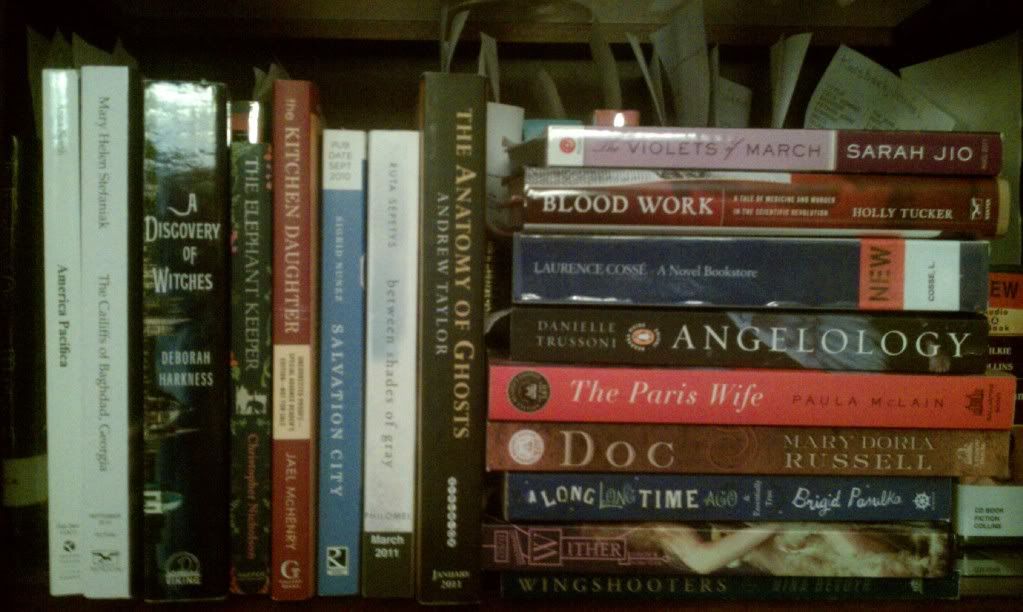 Left to right, top to bottom:
America Pacifica by Anna North
The Cailiffs of Baghdad Georgia by Mary Helen Stefaniak
A Discovery of Witches by Deborah Harkness
The Elephant Keeper by Christopher Nicholson
The Kitchen Daughter by Jael McHenry
Salvation City by Sigrid Nunez
Between Shades of Gray by Ruta Sepetys
The Anatomy of Ghosts by Andrew Taylor
The Violets of March by Sarah Jio
Blood Work: A Tale of Medicine and Murder in the Scientific Revolution by Holly Tucker
A Novel Bookstore by Laurence Cosse
Angelology by Danielle Trussoni
The Paris Wife by Paula Mclain
Doc by Mary Doria Russell
A Long, Long Time Ago and Essentially True by Brigid Pasulka
Wither by Lauren DeStefano
Wingshooters by Nina Revoyr
What books should come on vacation with me?