Welcome to Saturday Story Spotlight, my feature where I discuss books my husband and I are reading with our son, Daniel. These are books that he, we, or all of us particularly enjoy.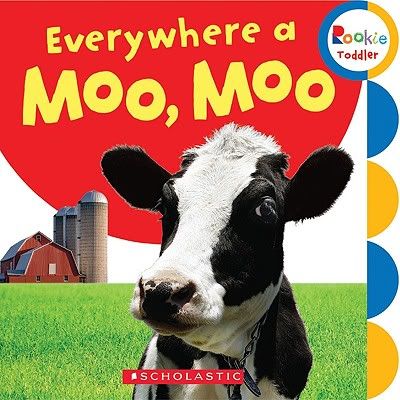 Everywhere a Moo, Moo by Scholastic
Published by Children's Press, an imprint of Scholastic

Despite the suggestive title, Everywhere a Moo, Moo is not the entirety of Old McDonald Had a Farm. According to some reviews I've seen, some readers who were expecting Old McDonald have been somewhat disappointed. Instead, each page has an animal – the cow, for example – and says, "Old McDonald had a cow. Here a moo, there a moo, everywhere a moo, moo." The book goes through a slew of Old McDonald-worthy farm animals: cow, pig, sheep, duck, horse.
Let me tell you, this book has been GOLDEN around here lately. We love it because it has really solidified Daniel's naming of these basic farm animals (he was a little iffy on 'sheep' before) and his command of the animals' noises ('oink' and 'quack' are now second nature). Daniel loves it because there are ANIMALS, people! Plus, he gets to interact with it, I read "Old McDonald had a…" and he gets to fill in the name of the animal AND tell me what the animal says. Plus there are pictures of real animals, not drawings, and that realism is always a plus. I think we read this every night for three or four weeks, and are still reading it occasionally.
This is a fun, well constructed way to work on farm animals. Lots of learning here, and lots of room to make it interactive for the child who is really starting to 'get' them.
Buy this book from:
Powells | Indiebound | Amazon*
Source: Personal copy
* These links are all affiliate links. If you buy your book here I'll make a very small amount of money that goes towards hosting, giveaways, etc.
Copyright protected by Digiprove © 2011